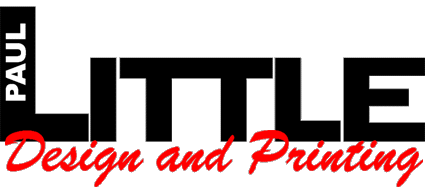 Full Color Jobs
Flyers
Newspaper Inserts
Business Cards
Letterheads
Envelopes
Carbonless Forms

Menus
Gift Certificates
Invitations
Announcements
Rubber Stamps
Doorhangers
More
I am now available as an independent contractor for businesses that do not have their own art department.
Once or twice a week, once or twice a month, even once or twice a year!
Whatever your needs, we can work it out.

---
Free web page(s) with minimum order!

(Details with order.)

Welcome to the best way to get your business printing done while getting your Kenosha area business on the internet. In a way that keeps getting easier to find.
Most printing jobs with Paul Little Design & Printing come with a free web page on this site. Get the business printing that you need and an easy to find web page for one low price. A page on kenoshaonline.com can make your advertising dollars go much further!
With every new business, there are more people pointing the way to your web page.

---
The biggest "LITTLE" difference is:
I come to you (in the Kenosha area). You don't have to make the time to leave your business and come to me!
Here are more reasons to let me come to you:
| | |
| --- | --- |
| If I Come To You: | If You Go To Them: |
| I have over 8 years ad layout experience; over 10 years experience creating business cards, flyers, bumper stickers, carbonless forms, brochures, etc; and a degree in graphic design. | Varies from experienced to adolescents right out of high school |
| I fit the printing job to your business, using your art, or my own, but always something appropriate for your business. | Usually, you can choose something from a book or use your art. |
| I come to you to pick up art and deliver the finished product. | You find the time to go to them. |
| | |
| | Seldom available, and often very expensive. |
| Locally owned and operated. | |
| Free web page. Size and content of web page is based on size and content of printing order. | Free air (no purchase necessary). |
| Business cards, letterheads, etc., with a "LITTLE" difference. Something that catches the eye, and makes a lasting impression. | Usually, you choose something from a book. |
| | |
---

---

This offer is NOT limited to businesses!

Wedding plans? Get the invitations, etc., and a place to show the world your most important day.

New baby in the family? Get the birth announcements and a place to show the world your new bundle of joy.

Company picnic? Order tickets (with maps) and have a place to show the festivities to everyone.

Having a family reunion? Order the invitations and get an e-mail attachment of a map showing how to find your reunion and have a place to post pictures of the reunion to share with everyone in your family.

You come up with something. Order the printing from me and get web space to go with it. All webpages (and the content of these pages) are designed by me - text, photos, and the general look or feel that you want, etc. will be provided by you.

Family-safe content only.

---
The best way to get in touch with me is my cell phone/24 hour voicemail. The number is 262-705-2268.
Offer good in the Kenosha area (and Kenosha county) only.
---