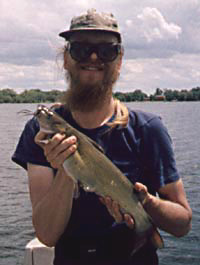 The Magic Bait
Many people search for a 'magic' lure: one that will catch any kind of fish, work in clear or stained water at any time of the year, and doesn't cost an arm and a leg to replace if you loose a few. I have found such a lure, actually a family of lures: Berkley Power Baits. Power Baits are a large group of soft plastic baits that are impregnated with scent and flavor, and fish really think they're alive. You've probably seen Berkley's commercials and you might have thought it was just hype. I've been using Power Bait for several years, believe me, it's all true!

Power Baits come in most popular soft plastic styles, from worms and slug-type baits to grubs and tubes. The color selection is also pretty good, although much smaller than some companies' offerings. Power Baits are the only soft plastic I buy. I've had fish pick them up and swim 50 feet while I was busy with another line, they think it's food not plastic. They will hit Power Baits repeatedly, even when they're not hitting other artificials.

I am a subscriber and field tester for North American Fisherman Magazine. This summer I was sent Power Baits to field test. I was happy to receive them, being such a fan already. I of course gave them a rave review and completely recommend them to anyone, especially beginning anglers. If you don't have faith in artificial lures, Power Bait will change your mind.

It's just about ice fishing time and most people think you can't use soft plastics when ice fishing. Wrong. When jigging for panfish, I always have a Berkley Power Wiggler on the hook. Even if the live bait is stolen, the Power Wiggler still attracts fish and gets them to bite.

Whenever I use another type of artificial lure, I always add liquid or gel Power Bait to it. The gel comes in fluorescent colors and stays on for a long time. I really like the orange to put on the belly of a perch colored lure. Some lures can also have plastic Power Baits added as trailers.

Whether you're an experienced angler or just a beginner, Power Baits are a good choice. I know of no other artificial lure that will produce so consistently under so many different conditions.
---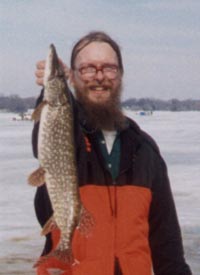 Beating The Crowds
A lot of people think they have to go "up north" for quality fishing. While it is true that our lakes are usually more crowded, there are still lots of opportunities for good catches in southeast Wisconsin.

One thing you have to get used to is crowds. If you can go fishing at night or on weekdays you will find fewer boats on the water. The trouble is, most of us can only go fishing on the weekends. Some of our area lakes are so busy so much of the time that it seems like it doesn't bother the fish anymore, just the fishermen. The fish seem to move rather than stop biting. If you can find a way to control your boat and baits in the zoo-like atmosphere, you can still catch fish. Although some lakes (like Geneva and Delavan) get so bad at times that it is nearly impossible to fish safely in a smaller boat.

Here are several methods to keep you fishing under these conditions:

Find an area with lots of long piers and fish between and beneath them. This will keep you out of the traffic pattern. Be sure to watch out for swimmers, wading fishermen, etc.
Try trolling (if it's legal on the lake you're on). When trolling, it's easier to keep your lines in order than when bouncing around like a tether ball at the end of your anchor rope.
Fish mid-lake structure, most of the boat traffic is within a few hundred feet of shore.
Go fishing during not-so-nice weather, but not during thunderstorms or high winds.
Watch out for big public parties, picnics, festivals, etc. and go somewhere else. Twin Lakes would probably not be a good idea during "Country Thunder".

You can also choose another place to fish;

Lakes with no public parks may attract fewer speed boats (there's no place for a picnic).
Lakes with poor public access can be a good choice as long as you can launch your boat there. Lakes with poor access or no access at all sometimes have places to rent boats.
Lakes under 50 acres are "slow-no-wake" at all times in Wisconsin.
Find a lake that is posted: "No Outboard Motors" or has a full time speed limit of 10MPH or less.
Go fishing on a river, most have much less boat traffic.
Fish Lake Michigan. It's a lot closer to Kenosha, which makes it a good choice if you only have a couple of free hours.
---
HOME | FISHING PAGES | AROUND KENOSHA | CAVES | CONTACT